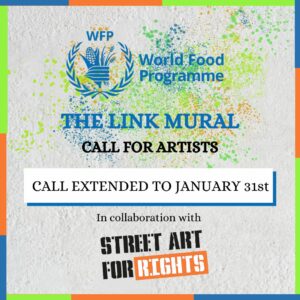 The United Nations World Food Programme Background
The United Nations World Food Programme (WFP) is the 2020 Nobel Peace Prize Laureate. We are the world's largest humanitarian organization, saving lives in emergencies and using food assistance to build a pathway to peace, stability and prosperity for people recovering from conflict, disasters and the impact of climate change.
Call for Mural Proposals
Through this open call, WFP is looking to receive expressions of interest and a short application from artists for the creation and delivery of an outdoor mural at the UN WFP Headquarters in Rome.
The mural space is 130/150 square meters and will be painted on a one-story building (specs below). This will serve as the backdrop to a new outdoor common space called, "The Link." This space will be the point of social and physical connection between two main areas of the HQ campus while also acting as a COVID-19 compliant outdoor meeting space for collaboration and interaction between teams.
Mural objectives
To create a visually inspiring work of art (mural/backdrop) that reminds WFP staff, partners, and visitors of the organisation's mission and mandate to save and change lives in the most challenging of circumstances.

The mural must be culturally respectful, communicating hope and aligned to WFP's mandate and visual identity.
Proposal requirements
The mural's themes should be driven by three key elements: 1) the word "hope", 2) the visual imagery present in the links shared below, and 3) the organization's purpose of "saving and changing lives."
It must also include the WFP blue banner/logo